LifePearl® - Microspheres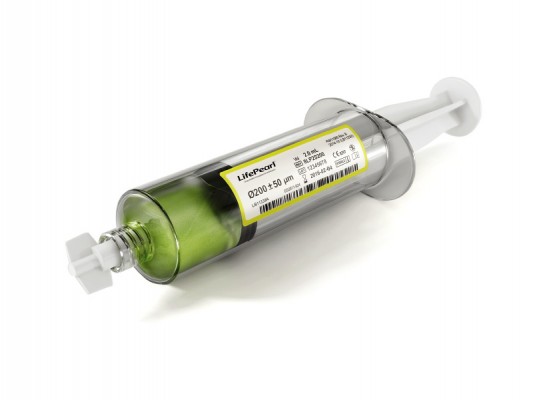 Because experience matters
Terumo Interventional Oncology Division presents LifePearl, a precise answer to a challenge in interventional oncology. LifePearl are PEG (polyethylene glycol) embolization microspheres that can be loaded with chemotherapeutic agents (such as Doxorubicin and Irinotecan).
LifePearl microspheres are intended for the treatment of primary hyper vascular tumors or liver metastasis, which once loaded with chemotherapeutic agents release the drug in a controlled manner. LifePearl microspheres are biocompatible, hydrophilic, and precisely calibrated.

LifePearl offers:
PEG technology
Tight calibration
Enhanced suspension characteristics
Fast loading times
What is the great innovation of LifePearl?
Hydrogel technology based formulation:
The innovation of LifePearl is that Polyethylene Glycol (PEG) guarantees more compressibility, elasticity and maximizes the microspheres suspension time while making the pearls more resilient to stress and attrition.
What are the benefits of PEG?
Hydrophilic material > allows better compressibility, elasticity and catheter deliverability
Addition of SPAc (sulfonate bonding) guarantees that LifePearl increases the drug retention and release inside the liver
Tight calibration
Precise embolization, which allows less risk of non-target chemoembolization
Precise calibration (100, 200, 400 μm sizes)
Excellent compressibility
Good resilience means less than 1% sub sized embolic particles
Enhanced suspension characteristics
PEG material minimizes time to suspension while maximizing time in suspension.
Syringe presentation
Easy-to-use format: Delivered with color-coded labels for easy use and identification
For further details please visit
https://www.terumo-europe.com/en-emea/interventional-oncology/loco-regional-treatment/drug-elutable-microspheres-tace/lifepearl%C2%AE-microspheres