Peripheral Intervention Roadsaver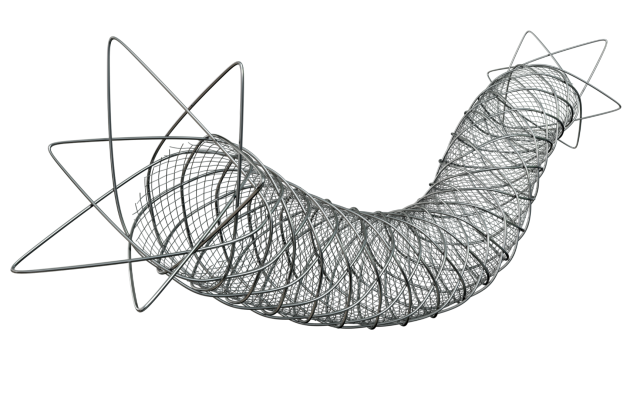 The Roadsaver Carotid Artery Stent System is indicated for use in patients with carotid arterial atherosclerotic disease.
An innovative design
Lesion-specific scaffolding
Features the flexibility of an open-cell stent while outperforming the benefits of a closed-cell stent.
Nickel titanium (Nitinol) double layer micromesh design
Provides good wall apposition
Good in-vessel flexibility
Allows for side branch patency
Conforms to tortuous anatomies
In-vivo tapering of braided nitinol design conforms to tapered ICA-CCA segments
An evident objective
Four good reasons for choosing the Terumo Roadsaver:
10-15% of all ischemic strokes originate from a stenosis inside the carotid artery
The majority of strokes occurs post-procedure (+/- 67%)
66% of strokes occur after removal of the cerebral protection device because of plaque prolapse through stent struts
Double-mesh scaffolding avoids protrusion of plaque through the struts
Specific features
Fully re-sheathable and repositionable even after 50% of the stent's length has been deployed.
5-Fr rapid exchange delivery system
Low-profile makes the device crossable
Ideal for primary stenting
Smallest stent cell size (~ 375-500 μm)
Sustained embolic protection
From the time of Roadsaver stent implantation, the patient will be protected against ipsilateral distal embolization.
Designed to prevent plaque protrusion and emboli release after stent implantation
Double-layer micromesh designed to contain plaque to the vessel wall

For further details please visit:
https://www.terumo-europe.com/en-emea/peripheral-intervention/peripheral-stents/roadsaver%C2%AE-carotid-artery-stent-system