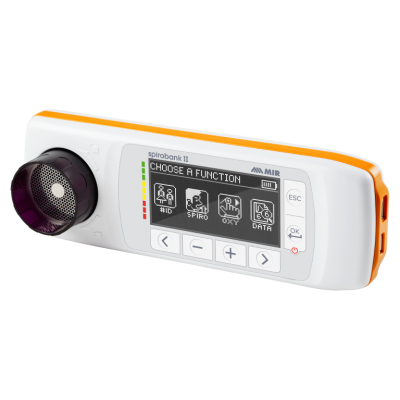 PRE and POST
Bronchodilator comparison.
Spirometry test interpretation
Embedded Temperature sensor for BTPS conversion.
Memory up to 10.000 Spirometry tests.
Rechargeable, long-life battery.
Traffic light health indicator.
For immediate test interpretation.
Backlit, high-resolution display.
With on-screen results and curves preview for immediate data assessment.
Winspiro PRO® PC software (always included)
Real Time test on PC, includes free online updates, and provides Real Time Flow/Volume and Volume/Time curves with PRE/POST Bronchodilator comparison on your PC. 
Quanjer 2012-GLI Predicted values with LLN and Z-score.
Available with either DISPOSABLE or REUSABLE turbine flowmeter.
Accurate, Simplified Spirometer
Can operate both in stand-alone mode, and connected to PC via USB.
Ideal for family doctors, primary care, occupational medicine, screening.
Spirometer with Oximetry Option
Can operate both in stand-alone mode, and connected to PC via Bluetooth® 2.1 or USB.
Portable minilab for pulmonologists and respiratory therapists.
Preconfigured for use with optional oximetry module.
Spirometer with Oximetry option for iPad. 
Through a simple tap, the App of Spirobank II Smart provides an highly innovative Virtual Assistant which supports the operator before, during and after the spirometry test.