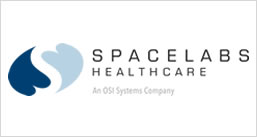 Our philosophy is to develop innovative medical devices that provide powerful tools for the clinician and the best care experience for their patients. We are committed to leading innovation in healthcare technology, and working as a dedicated partner with our customers.


The company offers products and services from three divisions: patient monitoring and connectivity, anesthesia delivery and diagnostic cardiology. Headquartered in Snoqualmie, WA, it employs more than 1,100 people around the world. Spacelabs has sales and service subsidiaries in eleven countries and is represented in over 120 countries.

Founded in 1958 by two scientists, Ben Ettelson and James A Reeves, the company developed cardiac monitoring and telemetry systems for NASA. These were used to monitor astronauts' vital signs in the early Gemini and the following Apollo space missions.

During the 1960s, Spacelabs continued its relationship with NASA culminating in Neil Armstrong wearing Spacelabs medical telemetry for the first moon landing in 1969.

The company went on to develop sophisticated medical monitoring systems and earned a reputation for innovation with some significant 'firsts' becoming one of the top US medical device manufacturers in the 1980's.
Subsequently the company made several acquisitions to expand its portfolio adding both the diagnostic cardiology company Delmar Reynolds and the anesthesia company Blease thus forming 'Spacelabs Healthcare' in 2005. As a result, our history of innovation and our heritage dates back more than sixty years.