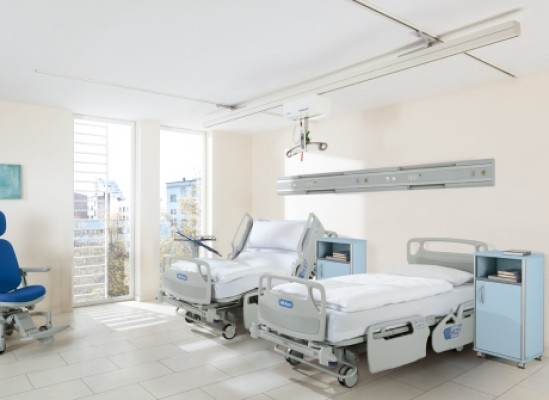 An exceptionally efficient bed lets you focus on patient care.
Intuitive, ergonomic and efficient "nurse-assist" functions allow you to spend less time operating the bed and more time looking after your patients.
Intuitive mobility helps promote patient autonomy and patient rehabilitation.
With the help of carefully designed functions such as the Intelligent Auto Contour™, the EasyChair™ and Flat positions, the Care grip and the one-button egress position, you can effectively progress your patient through the different steps of mobility.
Determine the safest position at a glance.
Protect your patients from harm by making the bedside environment as safe as possible using the intelligent nightlight, the lowest height indicator and the adjustable mattress retainers.
Experience the Hill-Rom® difference.
Your patients depend on you for quality care. You can rely on Hill-Rom for quality products. Tested well beyond regulatory requirements in Hill-Rom's advanced test laboratory, the Hill-Rom® 900 bed is built to last.
Download Brochure
For further details please visit
https://www.hill-rom.co.uk/uk/Products/Products-by-Category/hospital-beds–long-term-care-beds/hr-900/